● Introduce your team briefly
Prom Racing represents the National Technical University of Athens (NTUA) at the Formula Student competitions. The team was founded in 2008 by 5 students of the Department of Mechanical Engineering and in their very first year competing in Class 3 at the FSAE Italy, they managed to rank 1st. Today, Prom Racing is bigger than it has ever been in the past, as it counts over 60 members, and is about to enter the electric vehicle category this summer.
● Tell us about your team's history with formula student
Prom Racing started participating in Formula Student competitions in Class 3 at FSAE Italy in 2008, where we ranked first. Since then, we have participated in many competitions in Europe and have managed to get rewarded for our hard work and dedication as we have excelled in the most prestigious ones. So far, we have manufactured 5 combustion vehicles and this year we will race with our first-ever electric one.
● What does joining Formula Student Netherlands mean to you?
Everyone at Prom Racing is excited to join the Formula Student Netherlands this summer. We have never competed in Netherlands before so it'll be a new experience for everyone. Knowing how strong the competition will be and considering the fact that we'll debut in the electric vehicle category at FSN, the stakes for us are high.
● What are your main goals for this year?
We have worked extremely hard over the past year to design and manufacture a reliable and fast electric vehicle, so our main objective is to present a vehicle with the aforementioned traits. Gaining places in the Top 10 overall would be an amazing result for us!
● What made you think of/choose FSN?
Having been around for 13 years now, we know that in order to be good, we have to be bold and stand next to the best teams out there. So, it was clear to us that if we wanted to see the real competitiveness of our first-ever electric vehicle, we would have to compete against great teams and get valuable feedback from distinguished judges. Where else could we get that at the beginning of the summer season if not at FSN?
● What makes you different from the other teams?
What distinguishes us is the passion that each and every one of us has for what we do and what we try to achieve as a team, as well as our ability to optimize our limited resources.
● What is your biggest achievement in Formula Student so far?
Our best achievement so far is definitely the fact that in 2019 we ranked in the top 10 overall at all three competitions that we participated in (FS East, FS Austria and FS Germany). The reason that accomplishment is so special to us is that to get a high overall ranking demands consistency and reliability, traits that are definitely hard to get. Another special moment for us was when our team won for the very first time in both its and Greece's history, first place in a dynamic event. Specifically, in the Hungarian competition, we won the Skidpad event, against a total of 30 teams, while we almost broke the all-time world record, falling short by just 0.02 sec.
● Describe your car in three words
Reliable, fast, sexy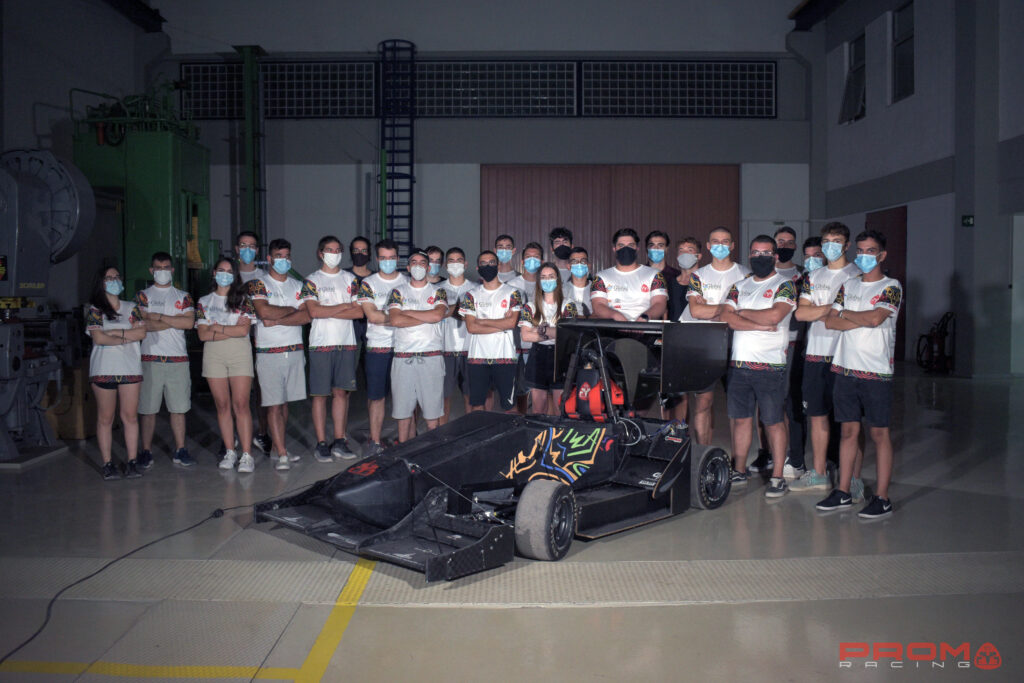 ● How did COVID-19 affect your team and how did you deal with it?
The pandemic has definitely affected the operation of every team around the globe. For us, the most challenging thing is that Athens is the hometown of most of our members, which means that they live with their family. The need to not only protect ourselves but also our loved ones was undeniable, so early in the academic year, we started taking all the necessary measures, like working from home for everyone at the operations, schedule shifts for the engineers that had to work at the lab in order to avoid overcrowding and frequently being tested for COVID-19.
You can follow PROM Racing for more information and updates on their social media platforms:
Facebook: Prom Racing NTUA FSAE Team (https://www.facebook.com/prom.racing)
Linkedin: Prom Racing NTUA FSAE Team
(https://www.linkedin.com/company/prom-racing-ntua-fsae-team/ )
Instagram: @promracing (https://www.instagram.com/promracing/)
Twitter: @PromRacingTeam (https://twitter.com/PromRacingTeam)
Website: https://promracingteam.com/