Introduce your team briefly.
Our story started in October 2018 with 9 people, most of us have known each other, we worked together on an electric FS project in the previous season. TU Budapest had a car for only EV and DV, we wanted to start something different and build CV cars at the uni again, after 2011 (the last CV car of BME FRT). We think that IC engines still have great potential, especially in motorsport. Today we have 48 members in 6 groups and a workshop in the basement of the main building of the uni, so far we built 2 cars and we can not wait for the start of the 2021 race season.
Tell us about your team's history with Formula Student.
In our first season (2018-19), we developed a car in only 9 months (and I think this was our greatest achievement) and participated in 3 races. Our first competition ever was in FSN 2019, which was a great adventure for us, so far away from Hungary. We had a really rough inspection, but we could start the dynamic events, our first one was the acceleration, we were last on the grid, and the track was wet only for us, so we came last for that event, but that was a milestone for us. We could not participate in more events as we had an oil leak and had to go back to our workshop to fix the car for FS East, which started 4 days after. We were a little sad after that scrutineering process, but now I can say, we can be thankful for that, the remaining inspections went much easier after we made the modifications you asked for.
What are your main goals for this year?
Our goal for our first season (2018-19) was to have a rule compatible FS car, which has been achieved in FSN 19. For this season, we would like to have 3 races and to be in the top 15 in every event.
What does joining Formula Student Netherlands mean to you?
We had prioritised 4 events before the start of the registration quiz (based on price, reputation, personal experiences), these events were the NL, CZ, EAST and FSG, so we were extremely happy when we saw our team's name as the team with the best performance on FSN quiz. At this moment the 2019 memories came by, the long journey, the  TT track, the evenings, that first feeling that we are now a real Formula Student team. We had a very intense music duel with the team of Lund from the next pit. As the sign of peace, we played Winner takes it all from ABBA when they won the Design event, then they played Csillag vagy fecske for us, so we had a really good time there despite the fact we had scrutineering for like 2.5 days and we did only 150 race meters, we are excited to start our season here again.
What makes you different from other teams?
I think we are no different from any of the teams, I mean we are all students who want to build race cars and do their best. Our greatest skill is to manage our limited opportunities and resources really precisely.
Describe your car in three words
Pretty, loud, capricious.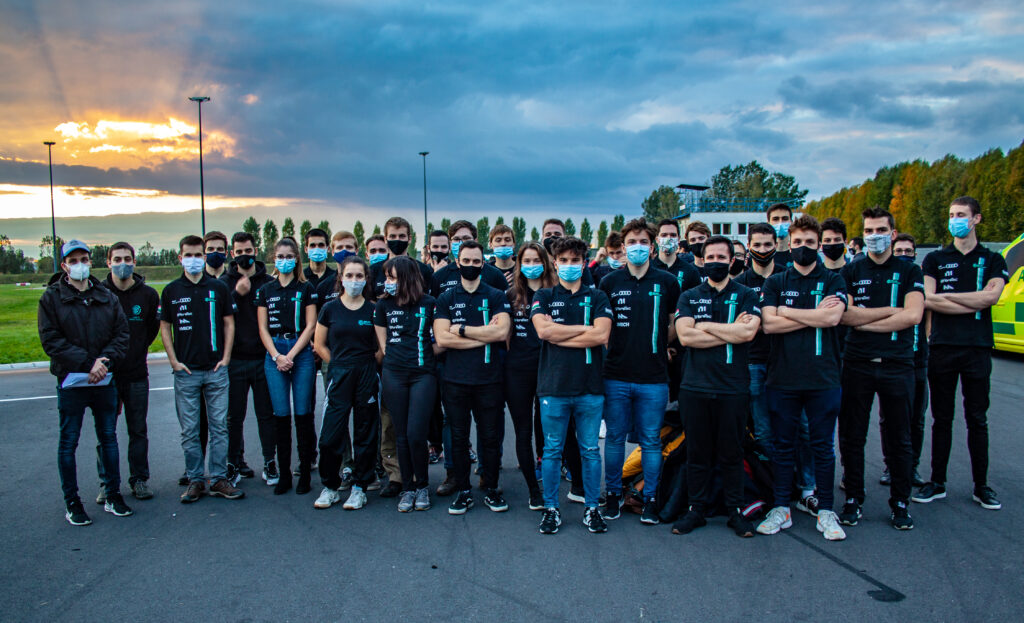 How did COVID-19 affect your team and how did you deal with it?
The COVID-19 came to us around Mar 10, 2020. One day, the government closed the universities (in less than 24 hours), so we took out everything from our workshop in a night, as we were banned from the university. Meetings went online, our electronics department moved to Debrecen (as every electronics team member lived in that city), dorms sent home the students, so we had to work in our own garages, gardens, which was challenging as we had no centre. As the races were cancelled, every team had to make a hard choice to continue work and finish the car in 2020, or work for 2021. We decided to finish the car for 2020, so we could have tests, and our 2019 car was discarded and could not bring it back to life. We could restart the work in June 2020, with lowered capacity, as the dorms were closed. The semester started normally in September, so we had our life back completely. We finished our car on Sept 30th and revealed in a video the biggest Hungarian car-themed youtube channel named Totalcar in the middle of October. On Oct 18, 2020, our former team captain organised a collective test for the Hungarian teams at go-kart track Birizdo in Kecskemét, with 5 cars, but only 2 of them were 2020, 3 teams did not finish it and participated with 2019 specs. We did some more testing after that, but on Nov 9, 2020, Hungary closed everything again, dorms sent home the students. The difference between the spring closing and now, we have special permissions, so our students could stay in the dorms and we can work in our workshop. We do not make a completely new car for 2021, 80-90% stays the same, we focus on track tests.
The pandemic caused a drop in our donations and sponsorships, but I think this was the same for every other team, we have to be more cautious now.
For now, we can live in dorms, work in our workshop (with the respect of 8pm-5am restrictions), but all of our meetings are still on MS Teams.
One of the greatest challenges was the recruitment program, which was started when the semester was going normally. When the new members started their trial period, the very same day the country was closed again, so we had to integrate them into the team online.
As a fun fact, I think I can share with you the story of how we choose our racing numbers:
– The car for 2020, we used the 07 for testing, the codename of the car was FRC-07, the seventh IC car from TU Budapest
– This year we use the 94 and 34. Our workshop is a former bearing testing laboratory, with the code of KF94. We have a vending machine near our workshop, and the Kinder Bueno at slot no. 34 is much much cheaper than the others.
You can follow BME Motorsport for more information and updates on their social media platforms: