Having participated at FSN in 2019, the EPSA team are coming back to TT circuit for 2021! With only a few years in the competition, this team has outstood from the beginning winning the Best Newcomer prize in the 2015 FSUK and also achieving 4th place in the Business Event both at FSATA and FSN!
Introduce your team briefly:
EPSA, which stands for Ecurie Piston Sport Auto, is a French Formula Student team originally created in 2001 by several students of the Ecole Centrale de Lyon (ECL), where we are based. About 40 students a year are fully involved in the team with several more alumni coming back to give us advice and feedback on our work.
Tell us about your team's history with Formula Student:
We have been participating in the FS competition since 2015 in the CV category and we are currently in the middle of our EV transition. The first car we built was elected Best Newcomer of the Year at the FSUK competition and we have entered a car in the competition ever since then. After a couple of years at the FSUK, we have been present at FSATA until 2019, where we doubled it with participation at FSN. This year, we are enrolled at FSN and FSA, two major European competitions we are excited to go to!
What does joining Formula Student Netherlands mean to you?
We qualified and participated in FSN for the first time in 2019, where we did really well in the static events and had some personal record-breaking performances in the dynamic events. We loved going to FSN then and we are excited to come back once again to compete with some of the best European teams!
What are your main goals for this year?
The car we are presenting to FSN is our last CV, so we want to go out with a bang for our combustion series! We are mainly aiming at finishing the Endurance event, which has been causing us problems for some years now, and we hope to break as many Static and Dynamics personal records as we can.
What made you think of/choose FSN?
We had such a good experience at FSN in 2019 that we just had to go back. The logistics and organization were top-notch, the teams were friendly and competitive, the judges were very relevant and helpful and overall we just had a great time taking part in the FSN experience!
What makes you different from the other teams?
We are a general engineering school and none of our team members are specialized in automotive engineering, be it dynamics or electrical. We have a broad base of knowledge but we have to do most of the in-depth research ourselves to make sure we have the best possible car. Moreover, our project aims at educating and shape tomorrow's engineers and technicians, hence why most of our car parts are made by students of neighbouring high schools specialized in different technical fields.
What is your biggest achievement in Formula Student so far?
Our biggest achievements so far would be our Best Newcomer prize in the 2015 FSUK and also our Static performances of 2019, where we achieved among others things a 4th place in the Business Event both at FSATA and FSN!
Describe your car in 3 words:
Adjustable, coherent, ergonomic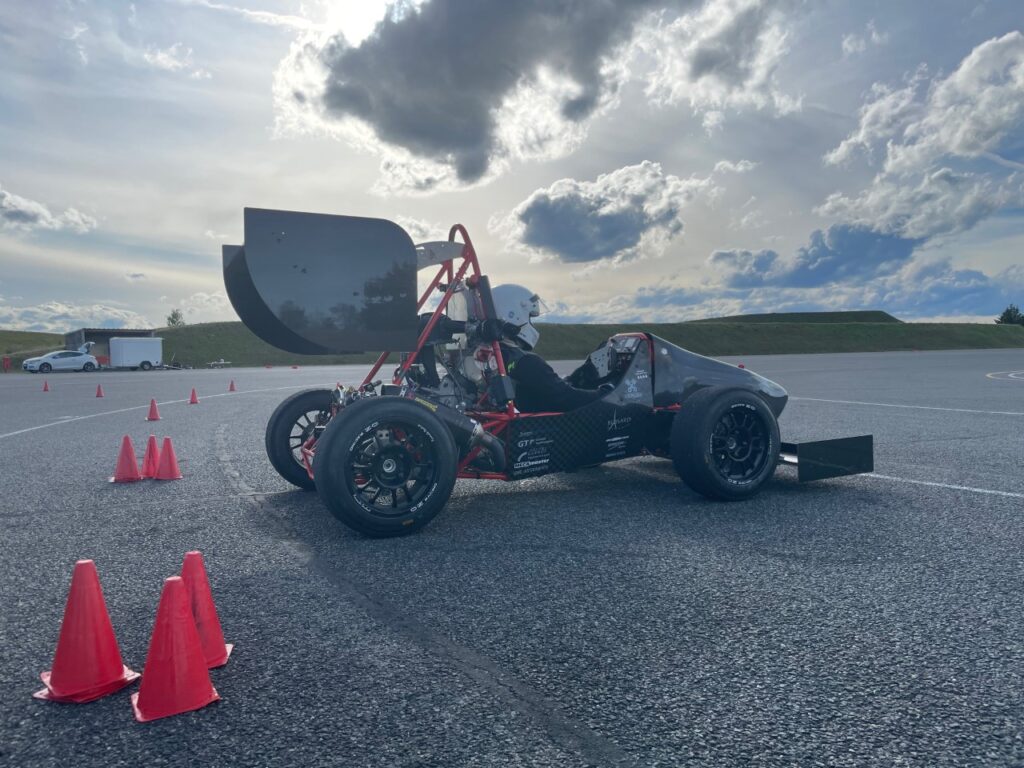 How did COVID-19 affect your team and how did you deal with it?
COVID-19 had a long-lasting impact on our team and we are still recovering from it. When the crisis erupted and lockdown was announced in France, we were about to start putting our car together, which obviously swarted our plans. We had students on campus recover the parts being delivered at the school and we set up a way to communicate between students by putting up a Discord server for our team. As the new season was starting, we reckoned that starting our EV transition a year earlier than we had originally planned would be the better idea as we wanted to present the 2020 car at the competition and we could not have presented 2 CV cars at the same time. There were also financial and educational reasons that came into play for taking the decision. Thanks to our team members' dedication and motivation, and despite the different lockdowns that have hit France (a huge thanks to our school for providing us with the legal paperwork allowing us to go and work on our car), we have managed to fully put together our CV car, which we have started testing, and we have finished the design of our EV car, which we will present at the Concept Class of the FSUK competition.
You can follow the team on their social media platforms for more information and updates:
Facebook : https://www.facebook.com/Ecurie.EPSA
LinkedIn : https://www.linkedin.com/company/epsa-ecurie-piston-sport-auto/
Instagram : https://www.instagram.com/ecurie_epsa/
Website : http://www.epsa-team.com/index.php/fr/