* Introduce your team briefly.
UNI Maribor Grand Prix Engineering was established in 2010 in Maribor, Slovenia with the purpose to bring together students from different fields, find the most daring as well as innovative ideas and build competitive race cars. In the season of 2020/21, the team consists of 25 members covering fields from mechanical engineering, electrical engineering, mechatronics, physics and economics.
* Tell us about your team's history with Formula Student.
In 2021 we are celebrating our 10th year in Formula Student combustion with our 10th race car GPE21. We have competed in 24 competitions across 8 countries. In this time our design has evolved from a simple tubular chassis vehicle to a full composite monocoque vehicle with a full aero package while having performance and low weight in mind. By optimising our powertrain each year, we are aiming for higher reliability and performance.
* What does joining Formula Student Netherlands mean to you?
This is our 1st time competing in Formula Student Netherlands and we are very excited about it as it is the first live competition since 2019. We heard various positive experiences from others and there are a lot of good teams competing at FSN this year which motivates us even more.
* What are your main goals for this year?
In season 2020/21 we designed and are built the next generation of our vehicle GPE21. For it, we completely redesigned all the electronics, made big improvements on our chassis, aerodynamics and powertrain and some minor adjustments to our suspension. Despite all the changes we stayed loyal to team goals of lightweight construction, maximum downforce generation and compact dimensions, for a high performing and reliable car. Our main goal is to successfully complete all dynamic disciplines and have a good overall placement in all competitions we partake.
* What made you think of/choose FSN?
It has good competition and event organization as well as being a new experience for us.
* What makes you different FROM the other teams?
We have incredible willpower. Even if all odds are against us, we will always find a way to succeed.
*  What is your biggest achievement in Formula Student so far?
We are most proud of winning the prestigious award for the Mercedes-AMG HPP Best Powertrain Installation of an Internal Combustion Engine and achieved the fastest lap at the Silverstone racetrack in the United Kingdom.
*   Describe your car in three words.
Light, elegant, agile.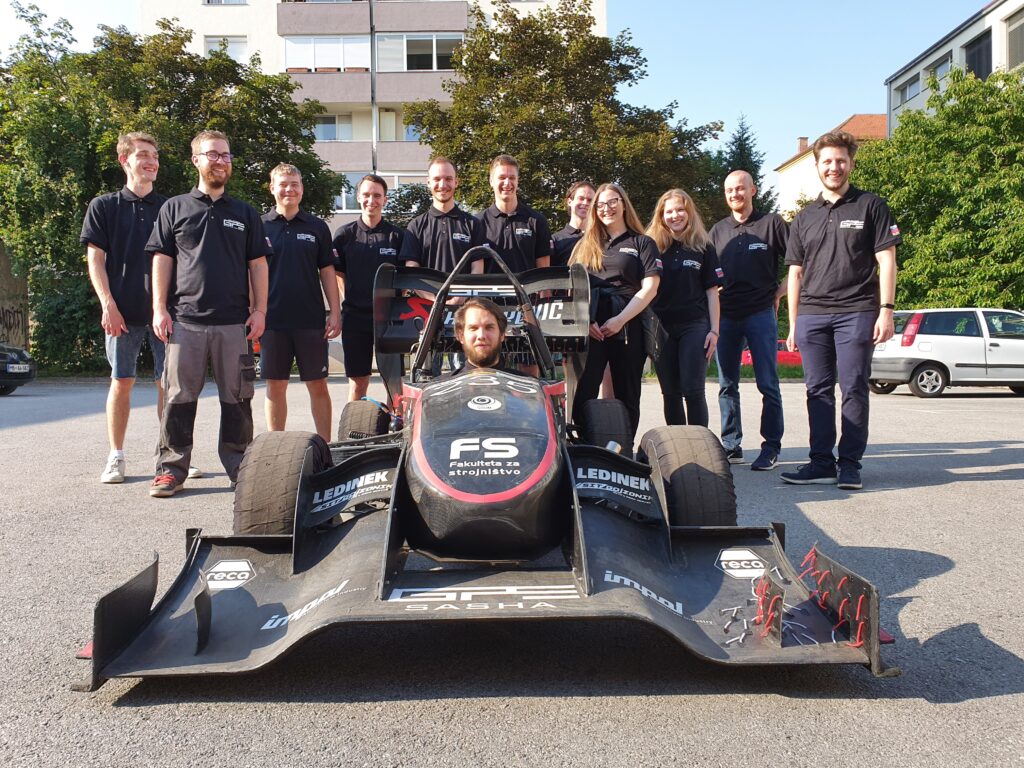 * How did COVID-19 affect your team and how did you deal with it?
Due to COVID-19, we could not access our workshop and laboratories at the university for the whole season. Because of that, we had to heavily rely on our sponsors, which luckily helped us immensely machining components we would otherwise manufacture ourselves. We also have to thank them for providing us with the necessary workspace needed for manufacturing composite components of our race car. A lot of other work was done from home as well as we did not get the chance to test as much as we would like. Lastly, the whole social distancing negatively impacted the experience of mostly new members, however, we gave our best to make their formula student experience memorable.
You can follow Team UNI Maribor Grand Prix Engineering for more information and updates on their social media platforms:
Website: http://gpe.fs.um.si/en/
Instagram: https://www.instagram.com/unimbgpe/
Facebook: https://www.facebook.com/gpe.uni.mb