Introduce your team briefly
StarkStrom Augsburg e.V. is the Formula Student Team of the Augsburg University of Applied Sciences, founded in 2010. In our amazing workshop, our team of about 30 active members builds racecars with absolute passion.
Tell us about your team's history with Formula Student
Our development process was fast and evolutionary, presenting a monocoque after only one year of Formula Student experience. After adding aerodynamic components in our 3rd year, we achieved an impressive 12th place overall at Formula Student Germany. In 2015, we built our most successful rear-wheel drive car, finishing 10th overall at FSG, and took on the challenge of an all-wheel drive car in 2016. After some setbacks we came back even stronger as a team. In 2021, our electric vehicle achieved amazing results: We finished three endurances and took home trophies not only in dynamics but also statics. In addition, we participated in the Driverless competition from day one and finished among the top teams in autonomous racing with a 2nd place at FSG21 and a 1st place at FS ATA 2021.
What does joining Formula Student Netherlands mean to you?
Formula Student Netherlands is the perfect event to start any event summer as it is highly professional. By participating at FSN you will understand every weakness your car still obtains and are prepared for what's coming during the rest of the summer.
What are your main goals for this year?
For this year we hope to be able to be as strong as we were last year. An unbelievable achievement would be to successfully finish the FSN endurance as the first event like we managed to do last year.
What made you think of/choose FSN?
Whenever we have participated at FSN everyone agreed on how good the event was organized, how well it was prepared and that it is a great event overall. It is definitely challenging to pass through scrutineering but it is even better if you manage it. For us, there was absolutely no doubt in participating at FSN 2022!
Describe your car in three words
Doppelt hält besser (Two times is better than one)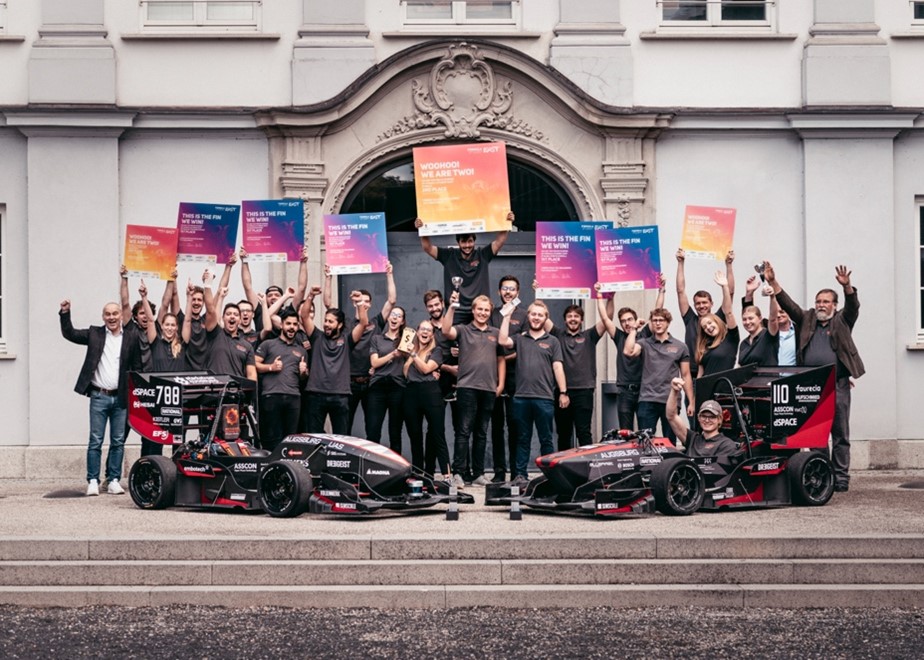 What makes you different from the other teams?
The names of our race cars are traditionally chosen after a name of a puppet of the "Augsburger Puppenkiste", which is a very famous German puppet theater. This shows, that our team is very close to their roots and is a great metaphor, that we are not only a team but also see us as a family.
What is your most significant achievement in Formula Student so far?
Our most significant achievement in the Electric class was our fourth place at FSN 2021. In the Driverless class we managed to become 2nd at FSG 2021 and the overall champion in Italy in 2021.
Do you think there are any positive outcomes for the competition from the current situation?
In Formula Student since ever students learned to find fast and flexible solutions for any problem. However, the current situation challenged this flexibility even more for example in our case, we had to participate at FSN 2021 with only six team members. Other teams told us we were crazy but we found solutions to manage the situation and even succeeded on a 4th place overall – with only six team members in Assen!
What can the Formula Student organizing bodies do to help the struggling teams due to the recent events?
As mentioned before, the students had to become even more flexible due to Covid-19 situation and the ongoing, unpredictable changes. What could help regarding the event organization would be a feedback opportunity face-to-face. Sometimes, it is extremely hard to explain a complex situation in just a short email. For example, the opportunity of an online meeting to discuss urgent matters would make communication way easier. This could be easily done by booking a time slot in the "My Team Account", which is for example on a fixed date every 2nd
You can follow StarkStrom Augsburg e.V. for more updates and news on their social media platforms:
Instagram: @starkstrom.augsburg
Facebook: @StarkStromAugsburg
Youtube: StarkstromAugsburg
Linkedin: https://www.linkedin.com/company/starkstromaugsburg/
Twitter: @StarkStromAux
Website: starkstrom-augsburg.de
We look forward to welcoming the team to the track!