After several years of experience with combustion vehicles, Dynamics e.V have gone electric since 2019. This team has achieved high results up to 4th place overall in Spain, and are aiming as high for this year.
Introduce your team briefly.
Dynamics e.V. is the Formula Student Team of the OTH Regensburg. Since 2008, our team has been continuously developing our racing cars and in 2019, for the first time, we started with an electric racing car.
Tell us about your team's history with Formula Student.
After our team was able to take part in the first events in 2008, the idea of a racing car became deeply rooted in the everyday life of the OTH. In the following years, we have continued to expand our ideas and concepts in order to become even better at the Formula Student events and to prove our ability.
What does joining Formula Student Netherlands mean to you?
Joining Formula Student Netherlands means a big step for our club. So far, our club has always been represented at the Formula Student events in Spain, Austria and Germany. We are looking forward to gaining new experiences at new events, as each event brings its own charm.
What are your main goals for this year?
Our goals for this year are to see our long-developed aerodynamic package perform in all its glory, but also to breathe life into our newly developed planetary gearbox. We are also confident of completing all disciplines at the events.
What made you think of/choose FSN?
Gaining new experiences at other events and getting to know the cultures and teams there.
What makes you different from the other teams?
Achieving the best possible results with limited resources. Never letting ourselves down and always making the best of the situation.
What is your biggest achievement in Formula Student so far?
With our combustion engine, we were always represented in the top positions, such as 4th place overall in Spain in 2019 or 1st place in Acceleration in 2018. With our electric racing car, we are aiming just as high.
Describe your car in three words.
AWAKE THE BEAST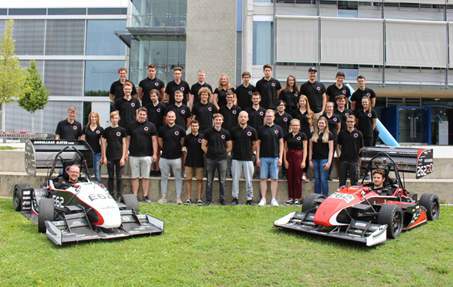 How did COVID-19 affect your team and how did you deal with it?
Covid 19 has caused some major cuts in our organisation. We are very proud of the fact that even though we were not allowed to use our workshops for the most part, with the help of our supporters we were still able to get a racing car up and running.
You can follow Dynamics E.V for more updates and news on their social media platforms:
Instagram: dynamics_ev
Facebook dynamics.regensburg
Twitter: team_dynamics
Youtube: dynamicsregensburg
LinkedIn: Dynamics e.V.