If anyone knows anything about ARUS Andalucía Racing, is their spirit. This is a team you can recognise on any circuit due to their numbers and loud chanting, and this year they are bringing their passion to TT circuit with another two vehicles up for a challenge.
* Introduce your team briefly.
ARUS Andalucía Racing was founded in 2012, competing for the first time in the 2014 season. We were the
first team from the Andalusia region to join the Formula Student community, and currently, ARUS is the only
Spanish team competing in both CV & EV classes simultaneously. Our team stands out for its great amount
of members (around 90), plus all the alumni which remain in close contact with us.
* Tell us about your team's history with Formula Student.
Our very first CV class vehicle, the ART-14, was able to complete an Endurance, which was the perfect
starting point for a team that has never stopped finding new ways to improve against all odds. 2018 was our
first season competing with two cars, and also the season ARUS reached podium positions for the first time.
One year later, in 2019, the ART-19C provided the first trophy in a dynamic event.
* What does joining Formula Student Netherlands mean to you?
It is a competition where we have had the opportunity to live some of the most important milestones in the
team's history. The feats we mentioned before (first competition for the electric car, first-ever trophies, first
podium in a dynamic event…) all took place in FSN, which has also been the first competition many team
members ever attended. There are many reasons why FSN is really special for us.
* What are your main goals for this year?
From both cars, in statics events, carry on with the line from the past and consolidate both cars in the top of the competition. Finally, in dynamics events, the combustion car is to compete for everything with the best possible reliability. And with the electrical car, is to pass scrutineering and end all the events with safety.
* What made you think of/choose FSN?
Apart from our emotional attachment to the competition, we have nothing but great experiences and memories there. The hospitality we always enjoy is just the beginning, since all the facilities on and off the track are great, as so is the organisation and the atmosphere during the whole week. We had plenty of reasons to decide that ARUS had to keep building its particular story in FSN.
* What makes you different from the other teams?
We are extremely passionate about everything we do (it might have to do with where we come from…), and
Formula Student competitions are obviously not an exception. You can hear us from miles away, chanting and supporting not only our own teammates but every struggling team, with whom we share our never-surrender spirit.
*What is your biggest achievement in Formula Student so far?
Making ARUS a contender for static events podiums at every competition we attend, which obviously involves extra pressure we are ready and always willing to deal with. Also, having been able to improve steadily, season by season, until achieving podiums in dynamic events, which we hope is only the beginning of successful years to come.
*Describe your car in three words.
ART20c: Ready to win
ART20e: Challenge, effectiveness and future forecast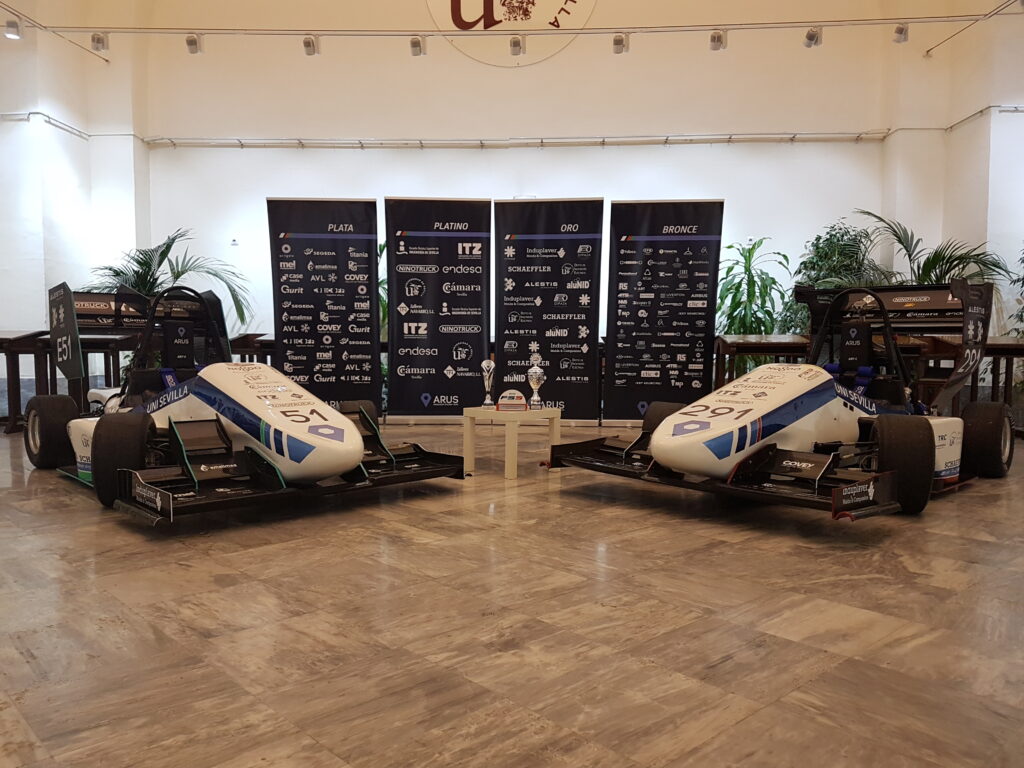 *How did COVID-19 affect your team and how did you deal with it?
As hard as it certainly was at first, same as for everyone else, straightaway we tried to make the most of the situation, gathering plenty of information, already thinking ahead to make sure that the team would be ready to get back to work as soon as it was deemed safe. This complicated season is also an opportunity to study, design and manufacture parts for next year's cars, and we truly hope that all this work pays off not only this summer but also over the following years.
You can follow Arus for more updates and information on their social media platforms
Instagram: https://www.instagram.com/arusfssevilla/
Facebook: https://www.facebook.com/ARUSFSSevilla
Linkedin: https://www.linkedin.com/company/arusteam
Twitter: https://twitter.com/arusfssevilla