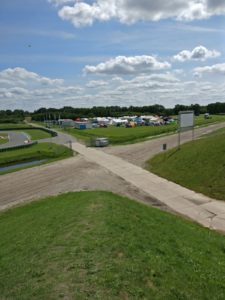 FSN2019 Campsite Bookings are now available via the form below.
Info & Regulations:
Teams are only allowed to stay in tents on the campsite. Caravans, campers and other vehicles are not allowed on site, except for unloading.
A list of banned items & rules will be published before the event.
The campsite is divided in 10m x 10m pitches. Due to regulations by the local authorities and fire department, the maximum amount of people that can stay in one pitch is limited to 15. In example, if you bring 22 team members, you must book 2 pitches.
You are allowed to book more pitches than you require.
The campsite includes the use of all sanitary devices, power outlets and WiFi (WiFi to be confirmed)
A campsite pitch can only be booked for the entire duration of the event
Arrival is possible from July 6th, 09:00 CEST.
Departure at latest on July 12th, 12:00 CEST.
Each campsite pitch is €550,- excluding 9% VAT. After submitting the form, you will receive an invoice for the total fee within a couple of days.
Campsite fees are 90% refundable until May 31st 2019. After this date, campsite fees are not refundable for any reason.